Director's Profile
Mr. Satnam Singh
Managing Director of the company is a well known name in the industry & has thorough knowledge of trade like Yarn , Fabrics, Knitting & Dyeing, Sampling & Production Planning, Garments etc. He has over 40 years of experience in this industry.
Mr. Taranjit Singh
Executive Director of the company is also well known name in the industry & have thorough knowledge of trade like yarn, fabrics, knitting & dyeing, sampling & production planning etc. He is dealing with buyer's requirements in the fabrics area. He is a graduate in BBA from Panjab and has over 10 years of experience in the industry.
Mr. Gaganjot Singh
Executive Director of the company, is an Associate Member of the Institute Of Chartered Accountants Of India. Also he holds a graduate degree in B.Com from Panjab University, Chandigarh and Post Graduate in Management from Symbiosis University. He has an experience of around 3 years in the Hosiery/fabric industry and has thorough knowledge in Yarns, Knitting, Dyeing, Sampling, Production Planning etc.
Our Infrastructure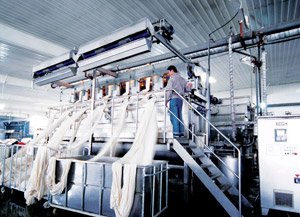 To enhance the premium quality, we have selected the Most-Up-To-Date & Innovative Technology and equipment from all over the world. The state-of-art technology enables us to serve the customers with Best Quality and Reliable Supply.
Avon Cottex, a leader in Knitted Fabrics has set up state of the art infrastructure for Manufacturing and Processing of International Quality Knitted Fabric Products.
Capacities
Today, with combined Manufacturing and Processing Facilities has enabled the company to obtain synergies in opertaions, therby carving out a niche for itself on the Textile front of the globe.

Our Fabric division has also shown an upward growth trend since its inception. Today, with the production & supply of tons of fabric per annum, our top quality fabric is already making its presence felt in the global textile industry.

We have high speed LAN (Local Area Network) connecting our different departments. It reduces paper work, time between operations and provides enhanced performance and faster delivery. Various computer software are installed to support backend work.
Our processing & manufacturing unit is fully backed by 100% Captive Power, World Class Facilities for our Processing & Manufacturing, Product Development and Marketing Teams, enabling us to meet our customers' expectations in terms of Quality, In-Time Delivery, Environmental and Social Concerns.